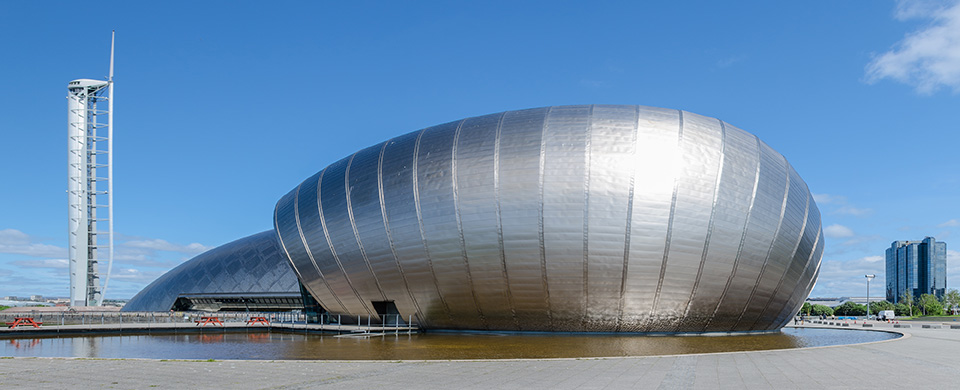 Other Attractions in Glasgow
Science Centre
Displaying a fascinating array of science and technology, the Science Centre provides a fun and informative day out for people of all age groups. The centre is an independent Scottish Charity which aims to create an engaging and interactive experience to inspire and challenge the minds of Scotland and its visitors. They also aim to enhance learning about science and technology and promote Scotland's scientific and innovative history.
George Square
The beautiful square in the city's heart has a uniquely interesting past. In 1781 it was little more than a muddy hollow used to slaughter horses. Fortunately, thanks to architects James & Robert Adam, a central grid plan was laid out spanning from Stockwell Street to Buchanan Street. The plan was based on some innovative Georgian designs and the growing rational influence of the Scottish Enlightenment. Following this period, during 1787 and the 1820s, the square was eventually opened up, and beautiful Georgian townhouses and hotels were built at its east and west ends. In 1842 Queen Street Station opened just north of the square as the Glasgow terminus of the Edinburgh and Glasgow Railway.
By 1850 the area surrounding the square had become the epicentre for mercantile activity, with the Merchants House moving to the square in 1877. At that time, the square itself had been developed into a private garden for the surrounding townhouses. However, after a disgruntled mob tore down the fences, the space was established as a public space and has remained so until today.
The square was named after George III, a statue of whom was meant to be placed at its centre; however, some turmoil and anxiety caused by the city's Tobacco Lords caught up in the American War of Independence in 1775, and the eventual defeat of the British in 1783 resulted in mixed feelings towards the Hanoverian. It was decided instead to commemorate Sir Walter Scot, which incidentally was the first ever memorial dedicated to him.
Barr
The Barrows is a bustling space where you can find many random items for low prices. The concept was originally devised by a young woman called Margaret Russell, who was the daughter of an Ayrshire policeman. She was only twelve when she started the trading frenzy by helping her parents look after a wheelbarrow full of fruit. Thriving in this environment, she eventually saved enough money to open her stall and rent horses and carts to traders. Turning the space into the world-renowned market, it is today – known as the 'Barras'
---
View our self-catering Glasgow Accommodation
---
What are you waiting for?
Book your Glasgow self-catering accommodation today!