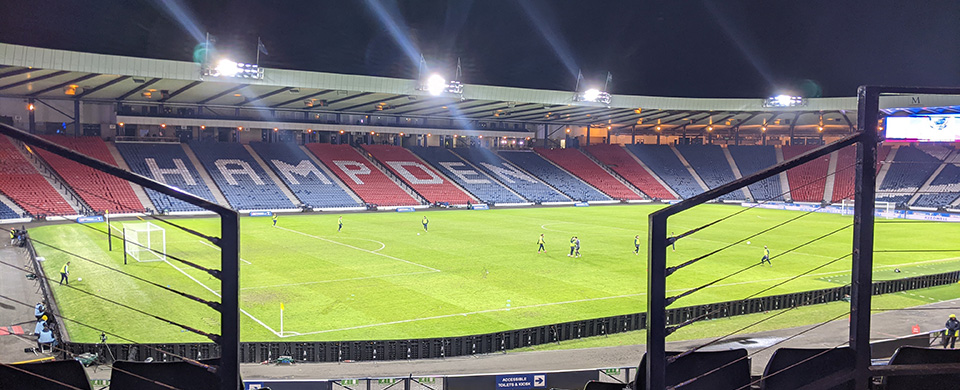 Sports Facilities in Glasgow
Glasgow, voted European Capital of Sport in 2003, is Scotland's sporting capital. It is known worldwide for its first-class facilities hosting many global and grassroots events. The city also attracts the best in sporting events, from 2007's UEFA Cup Final to hosting some of the delayed 2020 European Championship Football games at Hampden Park, to televised international athletics and gymnastics and not forgetting the city's two great mass participation sporting events - the Great Scottish Run in September and the Ignis Asset Management Women's 10K in May. Glasgow is also at the forefront of sports development, running coaching programmes across a wide range of sports - from football to swimming and badminton to kabaddi!
The Glasgow Climbing Centre
First opened in 1994, The Glasgow Climbing Centre offers a cheaper and less dangerous alternative to conquering Scotland's actual mountain peaks. The centre offers excellent facilities for those eager climbers looking to practice their skills, and classes for beginners wanting to enter the challenging world of Climbing.
Glasgow Ski and Snowboarding Centre
The centre is situated in Bellahouston Park, within easy travelling distance from our self-catering accommodation. Offering a modern dry slope, unrivalled tutoring, and snow sports activities for everyone. You don't even have to be a member to ski, the hire service will cater for all your needs, and you can enlist for the school holiday ski sessions.
Hampden Park
Back in 1867, "a group of gentlemen met to start a football team"; that meeting resulted in the start of one of the UK's oldest teams Queen's Park Football Club. Subsequently, in 1903 land was purchased by the team's committee, 33 acres in Glasgow's south side to build what was at the time one of the greatest and most technologically advanced stadiums in the world. The stadium was refurbished in 1990 by the National Stadium Committee, formed with representatives of the club and the Scottish football authorities. They managed to gather £12 million of funding to upgrade the North and East Stands, carry out external landscaping, improve car parking provision and provide hospitality lounges.
The first phase of the upgrade was completed in 1994; however further works were required. So another investment was made, costing £59 million; this project involved upgrading the South Stand and redevelopment of the West Stand. The current capacity of the stadium is 52,000, it is one of the only two grounds in Scotland that hold the UEFA Five Star grade, the other being Ibrox. In addition to hosting football events, the stadium also hosts concerts and large outdoor meetings.
Hampden is seen as an excellent and high-quality venue for many purposes, providing its visitors with exquisite conference rooms, hospitality suites, exhibitions, and dinners. Also, the convenient parking and quick access to public transport links make the stadium a good trip.
In 2021 Hampden Park was bought outright by the SFA to host Scottish international games, and this is why at present, Queens Park is homeless until their new ground at lesser Hampden is completed
Other Football Grounds
Glasgow has four main football teams, Partick Thistle, Glasgow Rangers, Glasgow Celtic and Queens Park. At present, only three of these teams play in Glasgow, but Queens Park should be moving back to Lesser Hampden over the next couple of years, once their ground has been redeveloped.
Partick Thistle plays in the championship division, Scotland's second tier. They play in Maryhill, which is roughly a 25-minute walk from our self-catering accommodation in the West End of Glasgow
Glasgow Rangers play in the top flight of Scottish Football in the Govan area of Glasgow. You can easily reach their ground from our self-catering accommodation by Subway, which is a ten-minute walk away. The Subway will take you under the River Clyde, and you can either get off at Ibrox or Govan
Glasgow Celtic also play in the top flight of the Scottish league, and to go to their ground it is a five-minute walk to the bus stop where you can catch a bus which will take you to near their ground called Parkhead.
Glasgow Warriors
Glasgow Warriors play rugby in the BKT UNITED RUGBY CHAMPIONSHIP at their ground at the Scotstoun Stadium. They have a great history, but over the 15 years, the team has grown massively since the introduction of professional rugby in the UK. You can access their ground by travelling by train at Partick Station, which is about 10 minute walk from our accommodation, and then you have a walk on the other side from Jordonhill Station
---
View our self-catering Glasgow Accommodation
---
What are you waiting for?
Book your Glasgow self-catering accommodation today!